Fitness has
Never been more fun
Select A Base Package To Get Started
All the essentials, plus the bag
$499
THIS WORKOUT PACKS A PUNCH
Premium equipment, punch tracking technology, and real-time stats motivate you to accomplish your goals, all from the comfort of home.
FightCamp is interactive, educational, competitive, rewarding, connected, fun, empowering, for everyone, at home, smart, boxing, kickboxing, game-changing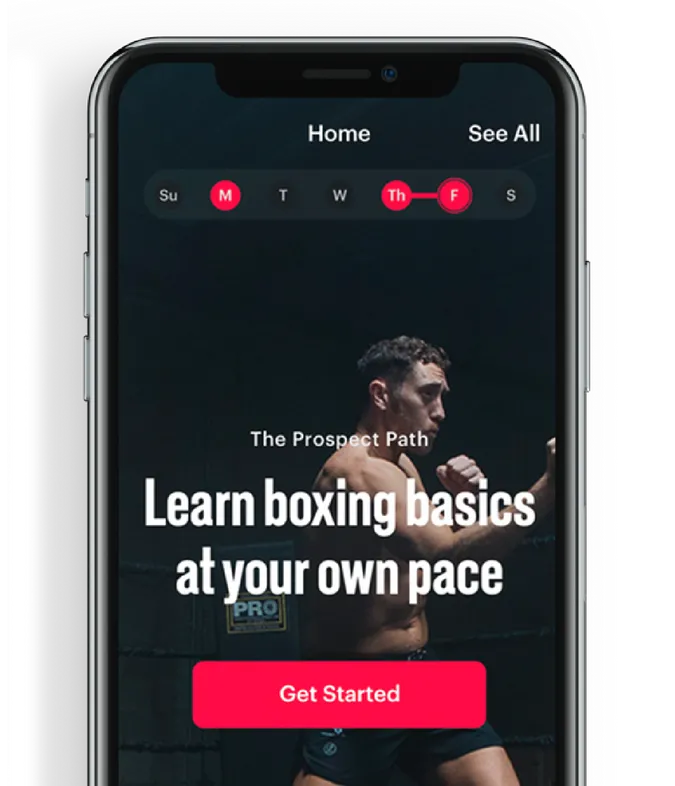 Experience the FightCamp App
our community agrees we're the best
Discover why our members love FightCamp.
20,000+ Apple Store Reviews
Customer Reviews
Fantastic Product
1/14/2022
I've only had FightCamp for a week, but I love it so far! I've never been a big fan of running for cardio, nor have I been very interested in Boxing. This solution is fantastic and a lot of fun.

Customer support is also fantastic. I bought the wrong gloves and they helped me get switched out to the right size.
I absolutely love FightCamp
10/25/2021
I absolutely love FightCamp. I'm a bit self conscious so going to a boxing gym was a little intimidating to me. So cool that I can do these full body workouts from my home! I now really focus on form and I love the trainers! Easy to follow and so motivating! Now I'm at intermediate and I just love the combo workouts. Feeling like a true bad ass. Thanks guys! I would recommend you to anyone!
Stephanie
Joined May 2021
FightCamp is the best thing I have done for my health in a long time!
10/29/2021
FightCamp is the best thing I have done for my health in a long time! I have been at it about 6 months now and I can't recommend enough. The trainers are knowledge and motivating! The trackers make it so much fun and help you see your progress. I love that the FightCamp app and workouts are consistently updated with new quality content and they seem to always be trying to make it even better!
The refresh I needed
7/19/2021
For the last 6 weeks I've been battling major health problems…ER visits and hospitalization, pain so severe I struggled to walk or spent hours on end curled in a ball, sleep deprivation, dehydration, and significant weightloss. It's been a STRUGGLE.
So when I woke up today actually able to workout 🥊for the first time in weeks I jumped on it and HUNTI do I feel good! This @fightcamp workout with @swensonboxing was the refresh I needed.
Living with disabilities, everyday I am reminded what a privilege it is to be able to move and train. I've been an athlete my whole life so incapacitation hits me HARD. Working out is not a privilege I always have, but when I do I cherish it.
To others who live with disabilities of any kind, I see you! Find whatever feels good and nourishing to your body and spirit and do it. You deserve it! 🧡🧡🧡
I genuinely could never imagine being without FightCamp at this point💪🥊❤️
6/5/2022
FightCamp has actually been a life-changer. I'm a life long martial artist and during the pandemic I could not visit gyms to box or kickbox. So I thought I'd give FightCamp a try and it has blown my expectations out of the water. Not only is FightCamp THE BEST workout, it has improved my technical skills as martial artist, and brought me a community of coaches and other fighters that elevate my life.

I genuinely could never imagine being without FightCamp at this point💪🥊❤️
Challenging and fun
2/8/2022
Not only is it a fun and challenging way to stay fit, but learning to box has given me a new respect for those in competitive martial arts.