At-Home Boxing & Kickboxing
Holiday savings
are here
Select a base package to get started
All the essentials, plus the bag
$449 $499
THIS WORKOUT PACKS A PUNCH
Premium equipment, punch tracking technology, and real-time stats motivate you to accomplish your goals, all from the comfort of home.
FightCamp is Unique, Exciting, Never Boring, Boxing, Kickboxing, Rewarding, Unconventional, For Busy Parents
FightCamp is designed to keep you engaged, focused and in the zone. Compete against yourself and others, celebrate your sweat and unleash your inner fighter with a uniquely satisfying workout.
NO TIME WASTED WITH FULL-BODY WORKOUTS
Discover your go-to workouts in our growing on-demand library, then seamlessly fit them into your busy schedule. Whether you have 15 minutes to power through four rounds, or an hour to grind through 10, you'll get a muscle- pumping, towel - soaking, full - body workout.
Our world-class trainers teach with passion & dedication, so you always feel motivated to go the distance. Fighting alongside them, you'll train like a champion, master technique, and strengthen your body & mind.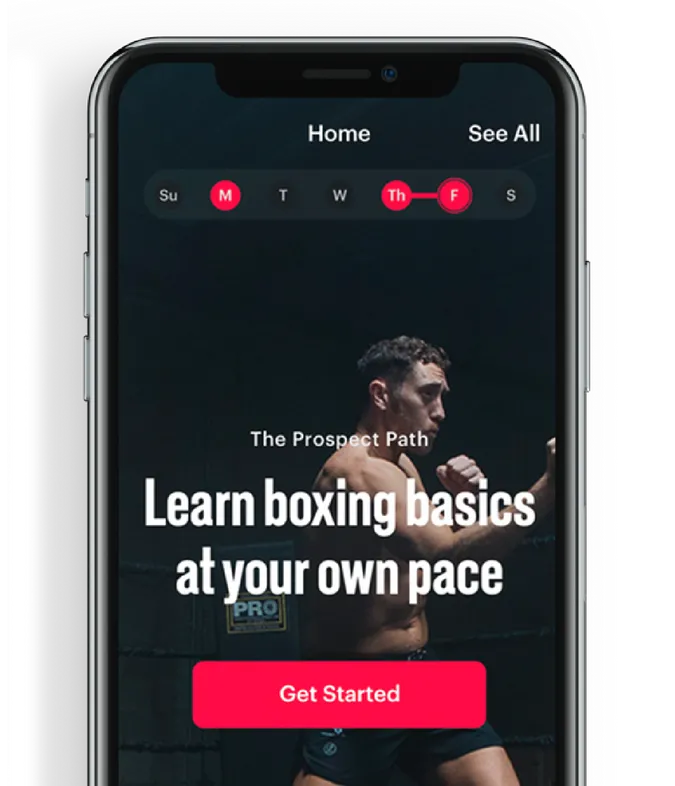 Experience the FightCamp App
our community agrees we're the best
Discover why our members love FightCamp.
21,000+ Apple Store Reviews
Customer Reviews
The variety of workouts is excellent
9/12/2023
We have had fight camp set up for about a little over a year now. Both me and my husband use it and love it. It's a great workout. The variety of workouts is excellent. All the trainers are great, I especially like Jess, Aaron, PJ and Flow Master. My fav workouts are the Full Body, Burnouts and Core. I like that you can add on the core workouts to start immediately after your main workout.
When using the trackers I like to focus on the punch goals, whereas my husband likes to focus on the power. We have it set up on carpet (only space we have room) so depending on how hard you hit the bag it can move. We bought gym tiles to place under the bag, but those still move over the carpet. It doesn't move as much for me, but moves quite a bit when my husband uses the bag. I'm sure it doesn't move much if you have it on a hard surface like concrete or hardwood. We don't mind moving the bag back every now and then. The customer service has been excellent. Even on the weekends, I get timely email responses to my requests/questions. The process of purchasing and setting everything up was super easy as well. The app is really easy to use and new workouts are being added all the time. I would highly recommend Fight Camp.
Melissa W
Joined June 2023
I LOVE this program!
9/19/2023
I LOVE this program! FightCamp actually makes me look forward to working out! The workouts are super fun and they have a great variety (strength, conditioning, stretching, pure boxing, full body, kickboxing, abs). The workouts will kick your butt whether you're a beginner or an established athlete. They have features that work great for self-motivation and trainers that push you to reach your best potential. The customer service is just as awesome! They respond quickly (sometimes even outside their operating hours) and are super accommodating. They sent me replacement trackers and quick wraps when I broke mine and even threw in some resistance bands! You'll be hard-pressed to find a better, well-rounded, more effective and more fun program!
Really happy with the bag!
7/28/2023
Really happy with the bag! We have only had it set up for a week but we have all given it a go and it has been great. My son doubted it would work well for him and his "power" but he is now telling all his gym friends that this is the best for his cardio workouts. Can't wait to explore the online content more.
Kimberly B
Joined Jan 2023
The workouts are amazing.
8/22/2023
I love FightCamp. The workouts are amazing. The trainers keep me motivated. I have been using them for over two years and have never found a workout I didn't like. Recently I lost my punch trackers and customer service was prompt, polite and had new trackers in my hands in a few days. I can't say enough good things about FightCamp!
So excited to be a part of the FightCamp team
7/15/2023
I just received my package. I was surprised it arrived so quickly. I'm really impressed by their customer service and sales representatives. They are quick, efficient, and are on top of everything. I already feel tons of support from them and I am so excited to be a part of the Fight Camp team
Jennifer F
Joined June 2020
Love every minute of it.
9/2/2023
I have used this program now for over 3 years and have loved every minute of it. After all this time it is still is challenging, partly because Fight Camp continues to develop new programming including strength training, abs toning, nutrition, and more. The periodic competitions are fun. The leader board is a great way to stay motivated. The equipment is top notch, including some pretty awesome punch trackers. The service team is responsive and has exceeded my expectations with each interaction. There are a variety of trainers to mix things up as well as classes of all strengths and types. This program allows me to stay in shape and get more sleep by not having to run to the gym every morning. I highly recommend Fight Camp.