Shop Packages
Everything You Need to Hit Your Goals
 Additional Premium Boxing Gloves  
Two Ways To Pay:
Monthly Financing
Due Today
---
Then
Pay With Card
Due Today
---
Then
Free Shipping & 30-Day Money Back Guarantee
* Based On 24-Month Financing & Eligibility
Most Popular
Perfect for Households Who Are Stronger Together
 Additional Premium Boxing Gloves  
Two Ways To Pay:
Monthly Financing
Due Today
---
Then
Pay With Card
Due Today
---
Then
Free Shipping & 30-Day Money Back Guarantee
* Based On 24-Month Financing & Eligibility
Perfect for Boxers Who Crave Next-Level Training
 Additional Premium Boxing Gloves  
Two Ways To Pay:
Monthly Financing
Due Today
---
Then
Pay With Card
Due Today
---
Then
Free Shipping & 30-Day Money Back Guarantee
* Based On 12-Month Financing & Eligibility
Buy Now, Pay Later
with
Starting at
For 24 Months
Quick and easy
Enter a few pieces of information for a real-time decision. Checking your eligibility won't affect your credit score.
No hidden fees
Know exactly what you'll owe before you commit. There are no hidden costs and no surprises.
Yours to keep
Own your FightCamp equipment right away. Simply pay over time.
Prequalify Now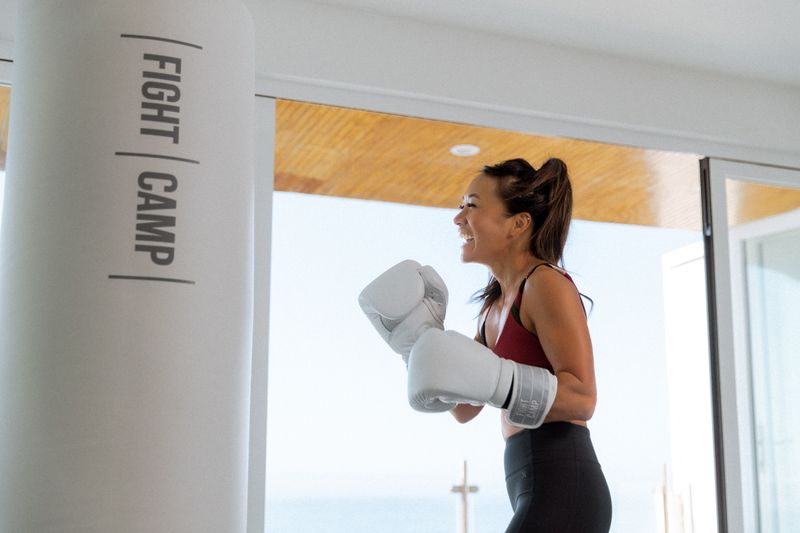 FREQUENTLY ASKED QUESTIONS
What do I need to join FightCamp?
You don't need any additional equipment, or even previous boxing or kickboxing experience! We will provide you with everything you need to enjoy the full FightCamp experience.
If you already have boxing equipment, our Connect Package may be the best option for you.
How long does it take for my FightCamp Package to be delivered?
Depending on where you are located in the U.S your FightCamp will be delivered in 10-15 business days. You will receive an automated email with tracking information once your order is shipped.
Because of the size of the items, only the FightCamp Connect can be shipped to Alaska and Hawaii. Please note that we do not ship outside of the US.
What does the set up process entail?
Setting up your FightCamp consists of creating an account on the FightCamp app, filling the Free-Standing Bag Base to your preferred weight, and attaching your Free-Standing Bag to the base. For more information, check out our support videos on YouTube.
Where should I set up my FightCamp?
Our FightCamp members workout indoors and outdoors — in their living room, garage, patio, guest room, you name it! As long as you have a space that is 67'' high with enough room for you to punch and kick the bag, you are set. If you'd like more inspiration, check out our FightCamp Facebook Community.
What workout should I start with if I have never boxed or kickboxed before?
If you have little to no boxing experience, FightCamp has your back! Our trainers have created paths specifically designed to teach you the basics of boxing and kickboxing so you can build a strong foundation. Start with our Level 1 boxing & kickboxing paths!
How much is the FightCamp Membership?
All FightCamp Packages require a monthly Membership. The price of a FightCamp Membership is $39/month (local taxes may apply), and is separate from the cost of equipment. The FightCamp Membership gives you unlimited on-demand access to FightCamp's growing library of 1000+ workouts, exclusive content and tutorials. Create up to 5 profiles per membership. Cancel anytime.
Do I own my FightCamp equipment?
Yes! Whether you pay in full or finance your equipment with affordable monthly payments, the equipment is yours to keep. All FightCamp equipment packages include a 30-day money back guarantee. Cancel your FightCamp Membership anytime, and keep your equipment.
What is your return policy (30-day Money Back Guarantee Policy) ?
If you are not satisfied with your FightCamp, you can ask for a refund within 30 days of the order being delivered. Because of the size and weight of your FightCamp, we do not offer a refund for shipping charges. Customers are responsible for return shipping fees, which may cost up to $350.
How many users can train on my account?
FightCamp allows you to create up to 5 profiles per membership so everyone can enjoy the workouts.
What is the FightCamp warranty?
FightCamp warrants its products against defects in workmanship and materials for a period of 12 months from the date of original delivery, provided they have not been subjected to obvious abuse, neglect or misuse.
How can I cancel my subscription?
There is no contract with FightCamp unless you paid upfront for a multi-year subscription. You can pause or cancel your monthly subscription at any time by logging into your account here.
How often are new workouts added?
Every week, 12+ new FightCamp workouts are added to the library. Plus, we keep every single past workout in our library for you to access anytime, so you can go back to beat your scores again & again.
Can I use FightCamp with an Android device?
The FightCamp app is now available for Early Access on Google Play.
Is FightCamp weatherproof?
The FightCamp Free-Standing Bag is able to stay outside, however, we do suggest covering the bag when not in use to avoid it getting dirty.
How many calories do you burn while boxing?
In an effort to best answer this question and get an estimate for the number of calories that are burned during a FightCamp workout, we gathered exercise data from 14 FightCamp participants over the course of 7 days. Participants burned an average of 482 calories during an 8-round FightCamp workout. Check out the entire case study here.
What music options do I have while working out with FightCamp?
Choose from FightCamp Radio, music apps, or no music at all. If you'd like to choose your own music select the "Music Apps" icon. This will open up the compatible apps that you already have installed on your device.
1) Monthly payments for the FightCamp Personal Package are based on 24 months at 0% APR and $0 down ($999). Additional delivery fees may apply. The FightCamp Membership at $39/mo is separate. A FightCamp Membership gets you access to use of the FightCamp Punch Trackers. Subject to credit check and approval. A down payment may be required. Estimated payment amount excludes taxes. Previous purchases are ineligible. Payment options through Affirm are provided by these lending partners: affirm.com/lenders. See affirm.com/help for details.